Appearance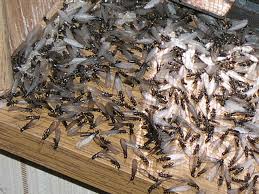 Termites are broadly divided into three major termite groups: subterranean, drywood and dampwood. If you are trying to classify a specific termite colony into a group, you need to look at the soldiers and the alates, the winged, unmated reproductive caste, because worker termites across groups tend to look the same. Also important is the appearance of the damage wood they consume.
Three "castes" of a termite colony: workers are approximately 6 mm long, light-colored and wingless; soldiers have elongated heads with mandibles; reproductives are dark-colored and have two pair of equal-length wings.
Other factors that will help identify subterranean termites are:
• Alates (swarmers): Dark-brown to black in color, about ¼ to ½ inch long with two pairs of wings that are very close to being equal in length.
• Workers: No wings, about ¼ inch or less in length and cream colored.
• Soldiers: No wings, large mandibles (jaws), termite colony defenders, are creamy-white in color, but their head is often brownish in color.
• Appearance of damaged wood: Since subterranean termites build their nests underground, damaged wood usually has an accumulation of soil or mud within the tunnels of the wood they are eating. Since subterranean termites only eat the softwood, damaged wood appears to be layered, the result of the workers not eating the hardwood portion. In addition, subterranean termites feed "with the grain" rather than across the grain, as do drywood termites.
• Location of the nest: As their group name suggests, the nest is usually found below ground. Nests may be found above ground, but only when sufficient moisture conditions are available to support the above-ground nest and the colony is old and well established.
---
Behavior, Diet & Habit
Live in colonies underground, from which they build tunnels in search of food; able to reach food above the ground level by building mud tubes; dependent on moisture for survival.
Diet consists of wood and other cellulose material.
---
Reproduction
Different rates of growth from egg stage to adult, depending on individual species; one primary queen per colony, which can lay tens of thousands of eggs in its lifetime, but eggs also can be laid by supplementary reproductives in an established colony.
---
Signs of a Subterranean Termite Infestation

A subterranean termite infestation begins when warm temperatures and heavy rainfall trigger an established colony to send out a swarm of winged termites. Swarms consist of winged reproductive males and females. Subterranean termite colonies are usually active for three to five years before winged reproductives appear. Winged, reproductive termites are frequently mistaken for flying ants, but are smaller than ants and have straight, rather than bent, antennae. Termite swarmers have four wings that are all the same size. Ant swarmers have two large wings in front and two smaller wings behind. After mating, swarmer termites land and shed their wings, leaving them in piles that resemble fish scales. If there are piles of wings on windowsills of your home, check to see if they are all the same size. They could be termite wings especially if they are all the same size.
When it comes to termites, "out of sight" doesn't always mean "out of mind." Signs of a termite infestation are difficult to spot, and many termites even tunnel hundreds of feet to reach a home or feeding site. That's why getting Bugging Out Termite Control now is crucial to help protect your home-before termites attack.
Termite control from Bugging Out helps you with not only the extermination of termites-but also helping prevent an unwanted termite presence later.
• Over 15 years of termite control experience
• Extensive training in all areas of termite control