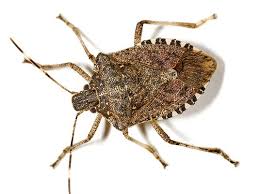 The brown marmorated stink bug (BMSB), an insect not previously seen on our continent, was apparently accidentally introduced into eastern Pennsylvania. It was first collected in September of 1998 in Allentown, but probably arrived several years earlier.
As of January 2015, Halyomorpha halys has been recorded in the following 49 counties, although it is probable that they are in all counties:
Adams, Allegheny, Armstrong, Beaver, Bedford, Berks, Blair, Bucks, Butler, Cambria, Carbon, Centre, Chester, Clarion, Clinton, Columbia, Cumberland, Dauphin, Delaware, Elk, Erie, Franklin, Huntington, Indiana, Jefferson, Juniata, Lackawanna, Lancaster, Lebanon, Lehigh, Luzerne, Lycoming, Mercer, Mifflin, Monroe, Montgomery, Northampton, Northumberland, Perry, Philadelphia, Pike, Schuylkill, Snyder, Somerset, Union, Washington, Westmoreland, Wyoming and York
It is also recorded from many other states such as:
California, Connecticut, Delaware, Indiana, Kentucky, Maryland, Massachusetts, Michigan, New Hampshire, New Jersey, New York, North Carolina, Ohio, Oregon, Rhode Island, Tennessee, Virginia, Washington, and West Virginia
Sightings have also been reported in the following states however this is not to imply that there are reproducing populations in those states:
Alabama, Arizona, Florida, Georgia, Idaho, Illinois, Iowa, Kansas, Maine, Minnesota, Mississippi, Missouri, Nebraska, New Mexico, South Carolina, Texas, Utah, Vermont, and Wisconsin
This true bug in the insect family Pentatomidae is known as an agricultural pest in its native range of China, Japan, Korea and Taiwan. Recently, the BMSB has become a serious pests of fruit, vegetables and farm crops in the Mid-Atlantic region and it is probable that it will become a pest of these commodities in other areas in the United States.
BMSB becomes a nuisance pest both indoors and out when it is attracted to the outside of houses on warm fall days in search of protected, overwintering sites. BMSB occasionally reappears during warmer sunny periods throughout the winter, and again as it emerges in the spring.
---
Description
Adults are approximately 17 mm long (25 mm = one inch) and are shades of brown on both the upper and lower body surfaces (Fig. 1). They are the typical "shield" shape of other stink bugs, almost as wide as they are long. To distinguish them from other stink bugs, look for lighter bands on the antennae and darker bands on the membranous, overlapping part at the rear of the front pair of wings. They have patches of coppery or bluish-metallic colored puntures (small rounded depressions) on the head and pronotum. The name "stink bug" refers to the scent glands located on the dorsal surface of the abdomen and the underside of the thorax.
The eggs are elliptical (1.6 x 1.3 mm), light yellow to yellow-red with minute spines forming fine lines. They are attached, side-by-side, to the underside of leaves in masses of 20 to 30 eggs.
There are five nymphal instars (immature stages). They range in size from the first instar at 2.4 mm to the fifth instar that is 12 mm in length. The eyes are a deep red. The abdomen is a yellowish red in the first instar and progresses to off-white with reddish spots in the fifth instar. Protuberances are found before each of the abdominal scent glands on the dorsal surface. The legs, head and thorax are black. Spines are located on the femur, before each eye, and several on the lateral margins of the thorax (Fig. 2).